When it comes to mainstream mice, the Logitech MX Master mouse is one of those models that has been around for ages. For a reason. The latest iteration, the Logitech MX Master 3S, doesn't exactly do anything groundbreaking, but it is a direct improvement over the Logitech MX Master 3 in quite a few ways, and at the same price point. It still remains one of the best mainstream power user mice out there, so let's dive into the review.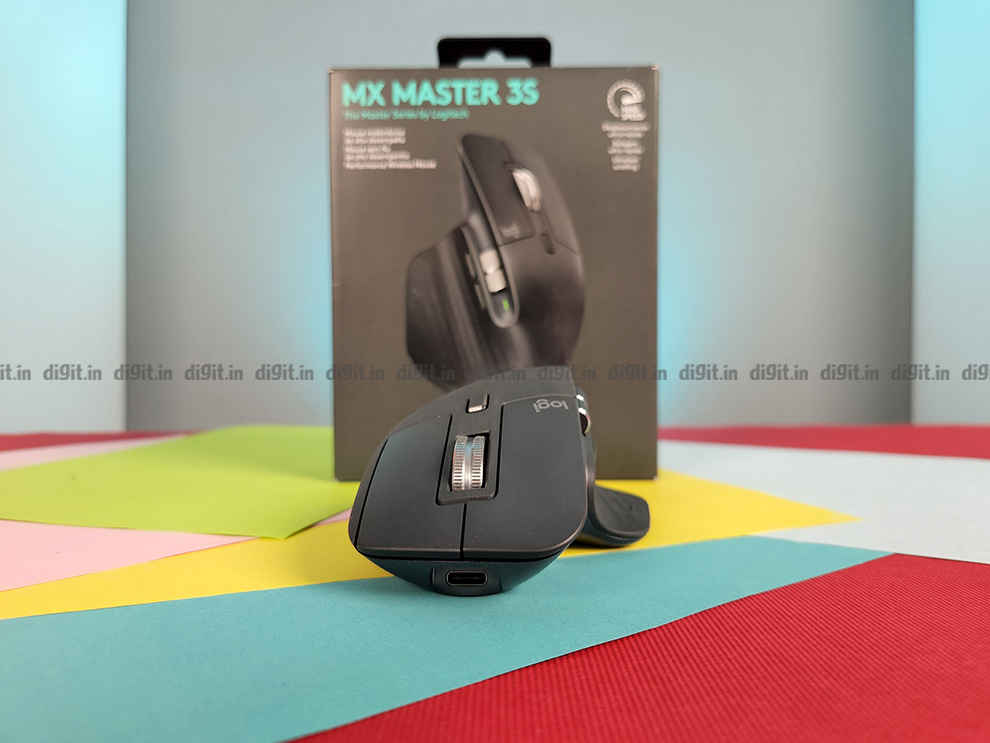 Logitech MX Master 3S specs at a glance
Dimensions: 51 x 84.3 x 124.9 mm
Weight: 141g
Number of buttons: 8
Connectivity: 2.4 Ghz USB-A dongle (Logi Bolt), Bluetooth
Sensor make and model: Logitech Darkfield
Maximum resolution: 8000 dpi
Battery life: 70 days (USB-C charging)
Price: Rs 10,995
Logitech MX Master 3S - Design and Build Quality
One look at the MX Master 3S, and it's evident that this mouse is for right-handed users only. However, we wouldn't exactly call this an ergonomic mouse either. The shape can take some getting used to, especially if you're used to more common, flatter, mouse designs or even gaming mice. The palm raises pretty high, so your palm will pretty much always be resting on the mouse. This can take some getting used to, but ultimately the experience is still comfortable.
As far as the dimensions are concerned, it's the exact same as the MX Master 3 at 51 x 84.3 x 124.9 mm.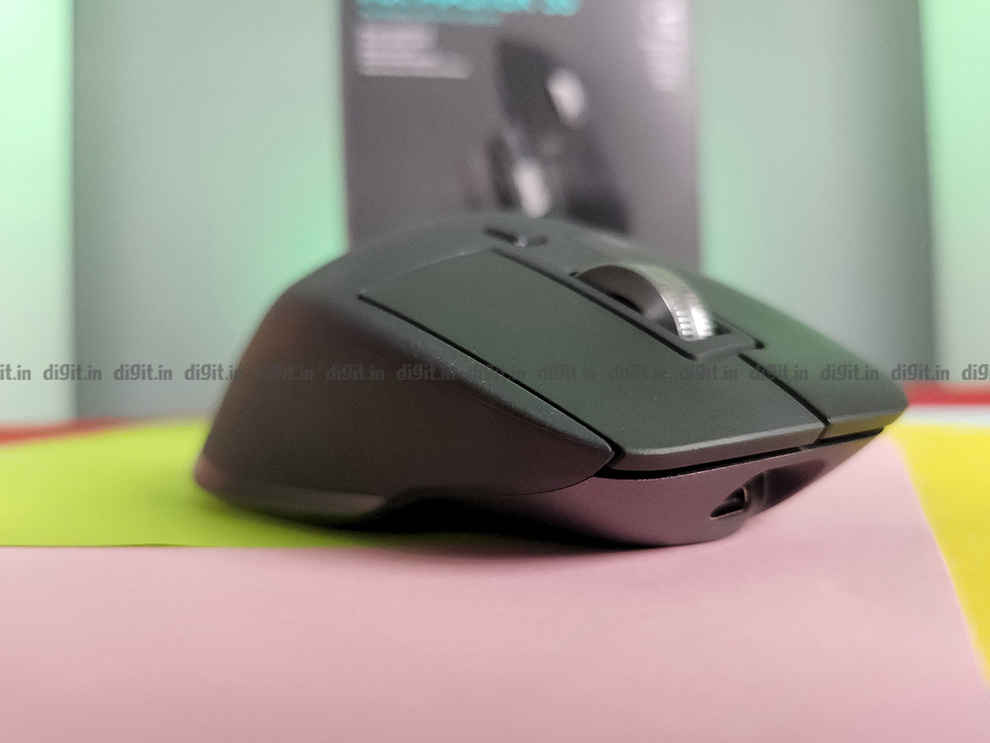 Moving past that, we come to the other functions and productivity features the MX 3S comes with. On the left side, you've got a wide horizontal scroll wheel and two extra buttons right below that. These are mapped to forward and backward by default. Even further to the bottom, on the thumb rest, you have an additional button, which is by default mapped to gestures. Hold the button down and slide up, down, left or right for additional actions. In addition to the left, right and middle click/scroll wheel, you've got an additional button on the top, which by default locks and unlocks the mouse's infinite electromagnetic scroll wheel. When unlocked, the wheel can reportedly scroll through 1000 lines per second; a feature that's targeted at coders who need to sift through heaps of code. Under the mouse, you've got a single button which allows to switch between up to three devices with different USB and Bluetooth connections. Do note here that only one of the three connections can be via the 2.4Ghz dongle. You also have the power switch here, which you can use to power the mouse on or off. All of these buttons but the device switch are customisable via the Logi Options+ software.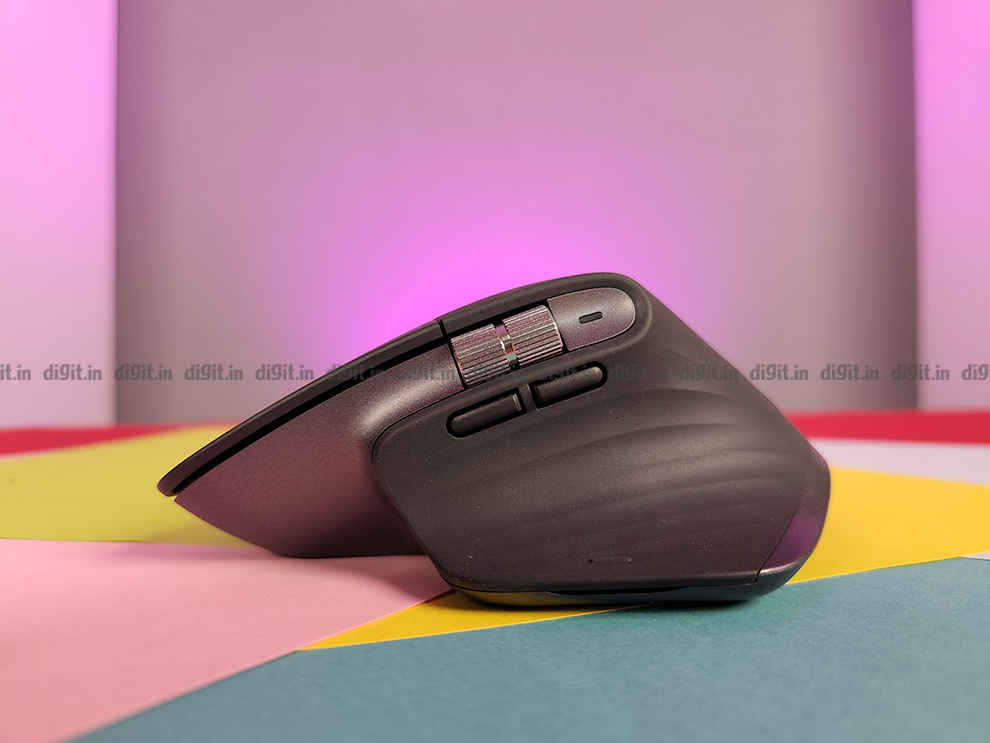 Which brings us to the buttons themselves. The clicks on the MX Master 3S are now "ultra quiet", up to 90 percent quieter than the MX Master 3 according to Logitech. There's a noticeable difference in feedback it would seem, and that can be off putting for some who like to feel their clicks. This is largely subjective though. We personally did not have too much of an issue with this, but if it's not for you, you might prefer the 3 over the 3S. The MX Master 3S is available in pale grey, darker graphite, or black. We got the pale grey unit for reviewing.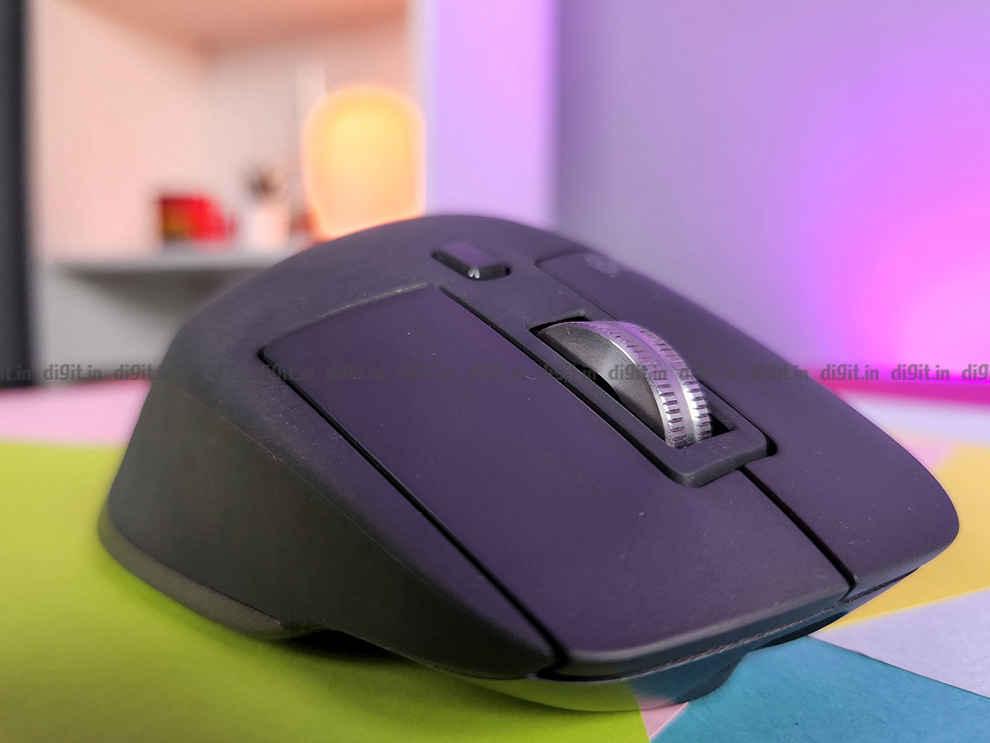 Features - What's new in the MX Master 3S
The MX Master 3S features an all-terrain Darkfield sensor which works on pretty much all surfaces, including glass and glossy surfaces. Additionally, the dpi has been boosted from 4000 dpi, to 8000 dpi. A welcome feature for those who work on large 4K monitors or with multiple displays.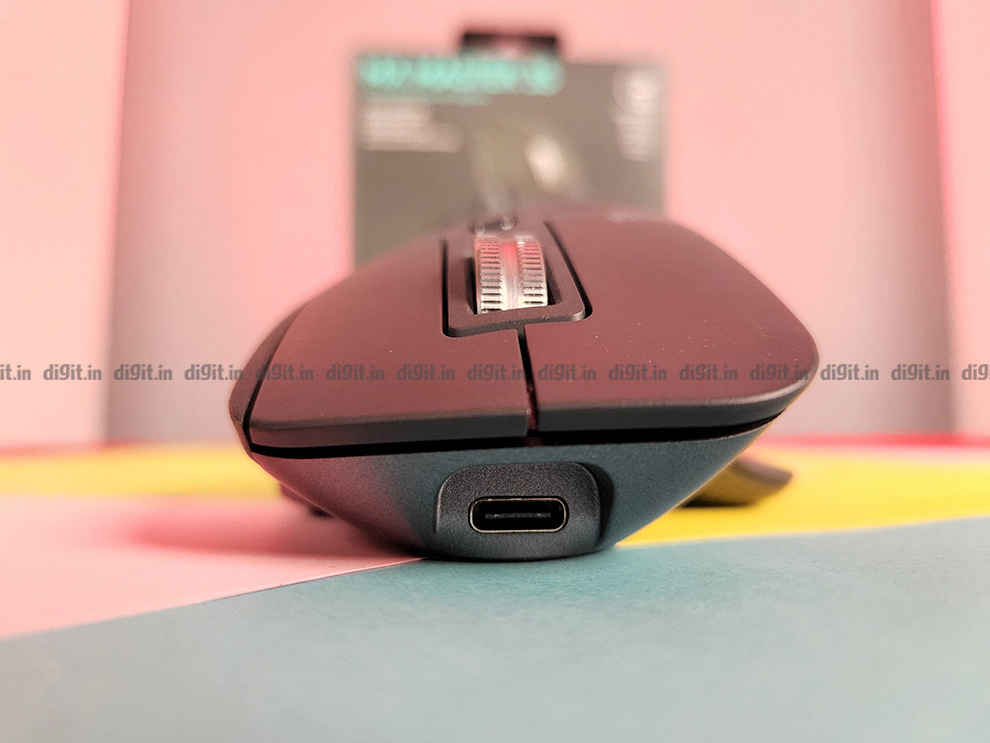 We've already mentioned the electromagnetic scroll wheel above, which is capable of scrolling through 1000 lines per second. Toggling the wheel via the button will set it to ratchet scroll, which allows for more precision scrolling. This does no apply to the horizontal scroll wheel however, which has only one setting. However, via the Logi Options+ software you can customise what it does. There are several preset options available, for instance, using the horizontal scroll wheel as a volume dial. Similarly, just about every button on the MX Master 3S can be customised to your liking. Logi Options+ also comes with a bunch of preset customisations, based on the software or app you work on. For instance, you've got preset customisations for Photoshop, or Google Chrome, with shortcuts for actions specific to those software. You can customise what the gesture button does here as well, for an additional four actions, well five, if you count just pressing the button as well. You can certainly pack a lot of shortcuts into this mouse.
MX Master 3S - Connectivity and battery
The Logitech MX Master 3S uses low-power Bluetooth or connects via the Logi Bolt USB receiver. The receiver is a type-A dongle which provides a 2.4Ghz connection, similar to the old Logitech Unifying Receiver which they're discontinuing for the new (and more secure) Logi Bolt. The new MX mechanical keyboard, and the recent Logitech Pop keys and mouse also use the Logi Bolt. Like we mentioned, you can use the button under the mouse to switch between up to three devices. But that's not all, using Logitech Flow, you can use the mouse on multiple devices simultaneously. Allowing you to even drag and drop files from one screen to another. Even if they're different OSs, i.e., from Windows to MacOS. The mouse does not have any local storage; Flow uses the cloud to transfer files so there's no limit on the size of files as well. However, this does mean that it's limited by your internet connection. One thing we were pretty bummed about however was not being able to store the USB dongle in the mouse. The G Pro mice, the POP Mouse, and even the Logitech M650 have this feature, while the MX Master 3S doesn't. The dongles are tiny and fairly easy to lose, making it a bit of hassle to travel around with.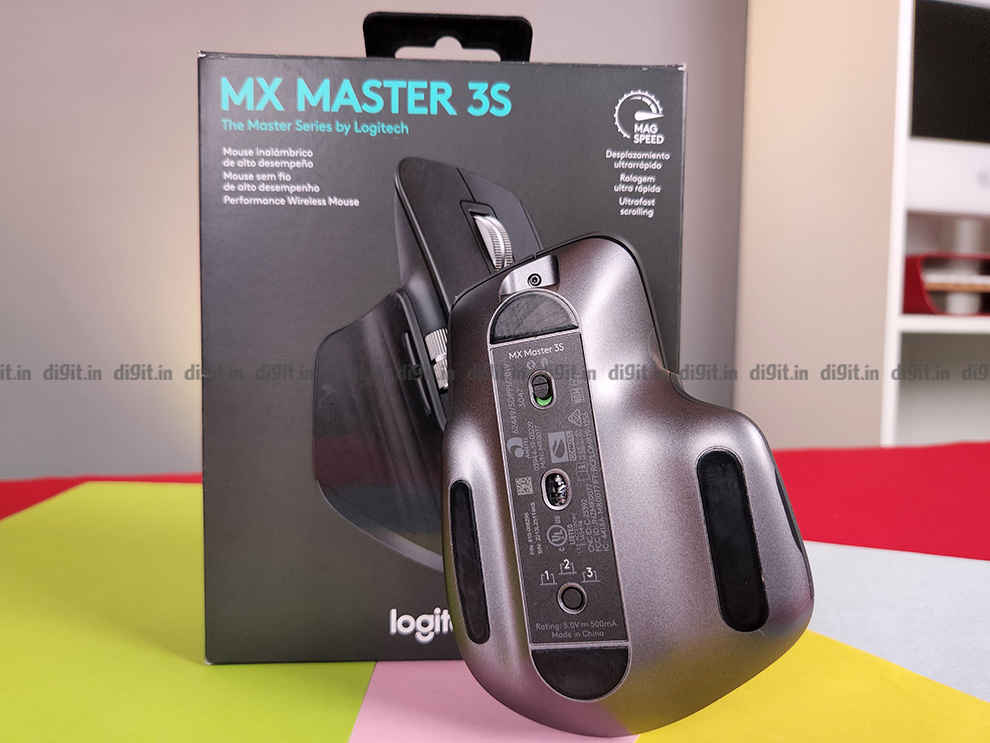 Finally, we come to the battery. The MX Master 3S comes with a type-C port for charging, and a type-A to type-C cable in the box. According to Logitech, just one minute of charging is enough to power the mouse for up to three hours. At full charge, the mouse has a reported battery life of 70 days. For conservative users maybe; power users will probably need to charge more frequently. We haven't yet needed to charge the mouse, but we can see it approaching the point where we would need to plug it in, and it hasn't nearly been 70 days at this point. Still, that's a good 20-25 days of juice on a full charge, which is not so bad. There's no improvement on the battery life compared to the MX Master 3, which according to Logitech is as planned. It was reportedly a challenge to keep the battery life the same with the improved features on the 3S.
Logitech MX Master 3S - The verdict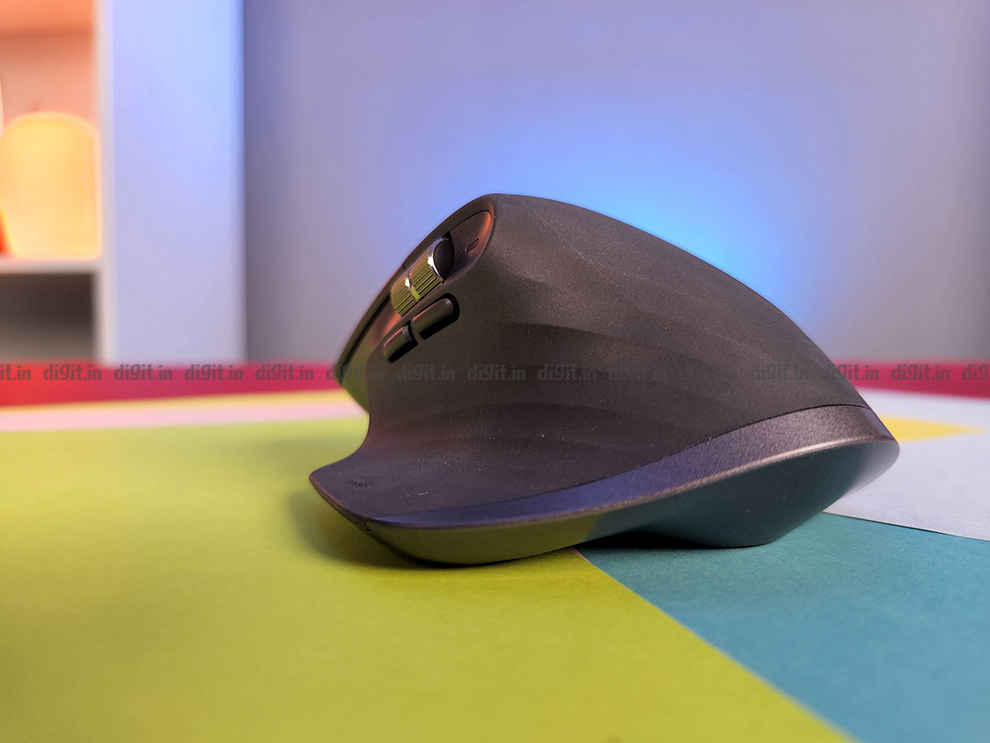 As far as mainstream and productivity mice are concerned, Logitech's MX Master mouse series has been the king for a while. That stays the same, as long as you're a right-handed user. According to Logitech, even left-handed users apparently prefer the right-handed design, but none of us here are left-handed so we can't comment on whether that's true. Other than that though, we can't really think of any other mouse that can boost productivity the way the MX Master 3S potentially can. Naturally, for all the features it offers, it's quite pricey, but the question is, what is it you want your mouse to be capable of? If you answered everything, then you probably want this.