Samsung's Galaxy Tab S6 Lite is a versatile tablet that strikes the right balance between productivity and value. This stylish tablet has a premium unibody metal design and includes exciting features like Dolby Atmos audio, a gorgeous display and Samsung Dex support. But, what truly makes the Tab S6 Lite stand out in its class is the S Pen stylus that comes bundled with the tablet.
The S Pen is a powerful tool that makes the Galaxy Tab S6 Lite an amazing option for creativity and learning. If you are a creator often on the move, here's why you should consider it as your next tablet!
Make the most of the immersive display with the S Pen
Creators will surely value the large, immersive display of the Galaxy Tab S6 Lite that thankfully doesn't come at the cost of portability. The tablet measures only 7 mm in thickness and tips the scale at just 467 grams.
The 10.4-inch display has a sharp WUXGA+ (2000 x 1200) resolution and is surrounded by narrow bezels. To make the most of this screen, you have the S Pen stylus.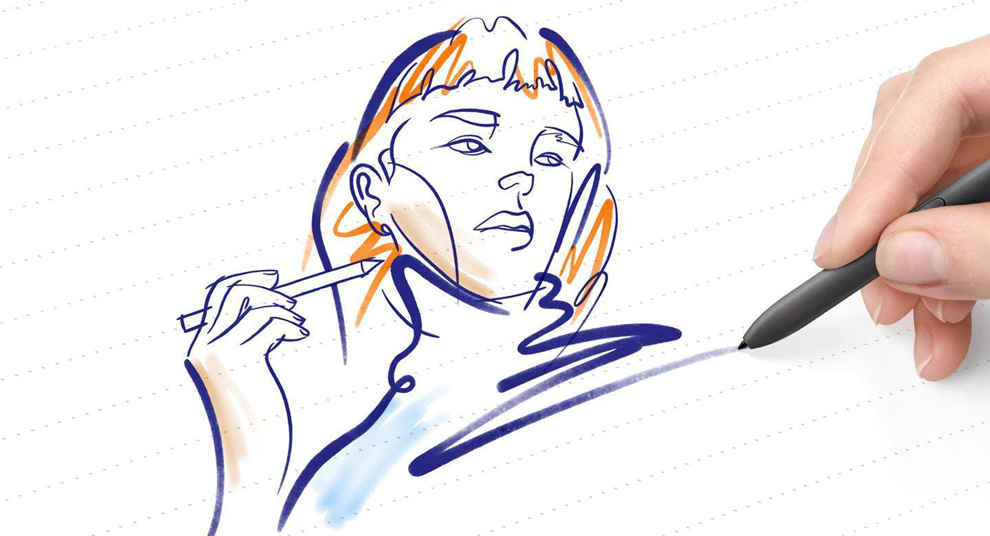 The S Pen weighs only 7.03g and is extremely comfortable to hold and operate. The natural grip, low latency, and a fine 0.7mm pen tip ensure that artists get used to it in no time.
If you are a digital artist or are planning to tip your toes in the world of visual art, the S Pen will make your life so much easier and will help keep you inspired. Apart from the large canvas to practice on, you will have a ton of options at your disposal that will help you speed up and also refine your sketches rather seamlessly.
You can conveniently shift between different pen and brush sizes when needed. You can also easily play with depths, get assistance following the rule of thirds or easily mirror the symmetrical halves in your sketches. You may also easily erase your mistakes or draw perfectly straight lines using the digital ruler.
Benefit from precise touches
Apart from sketching, the S Pen can prove incredibly handy for several tasks ranging from taking notes to operating complex apps with precision.
If you are a student, you can use the S Pen to jot down notes on the tablet just as you would using a regular pen on paper. Moreover, you can later colour code your notes for highlighting important aspects or add searchable tags to easily find what you are looking for while revisiting them later.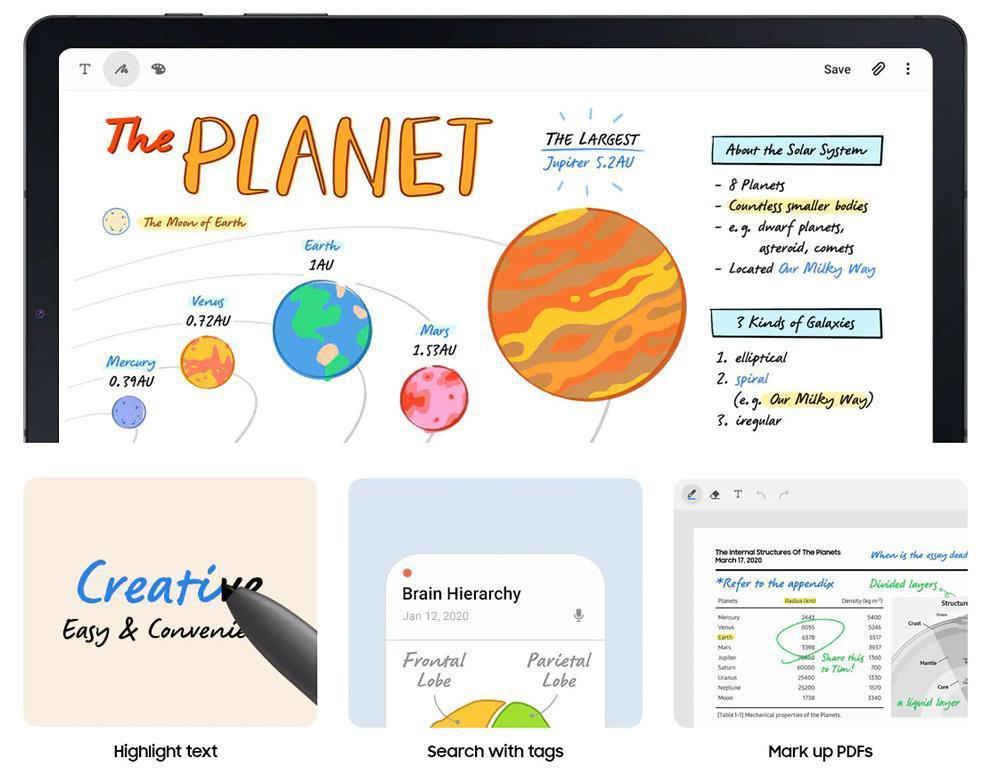 You can also use the S Pen to effectively highlight text while reading and to directly scribble notes over PDF files or even over screenshots for easy communication.
If you are editing a video on your Galaxy Tab S6 Lite, the S Pen will let you navigate the timeline with more accuracy than your relatively thicker fingers. It also simplifies tasks like resizing floating app windows, drawing over stock charts, or signing documents that require precise touches.
The S Pen on the Galaxy Tab S6 Lite doesn't have a battery, so you never have to worry about running out of charge. The stylus also magnetically clings to the tablet so it's hard to misplace and is always accessible when you need it.
Addressing modern needs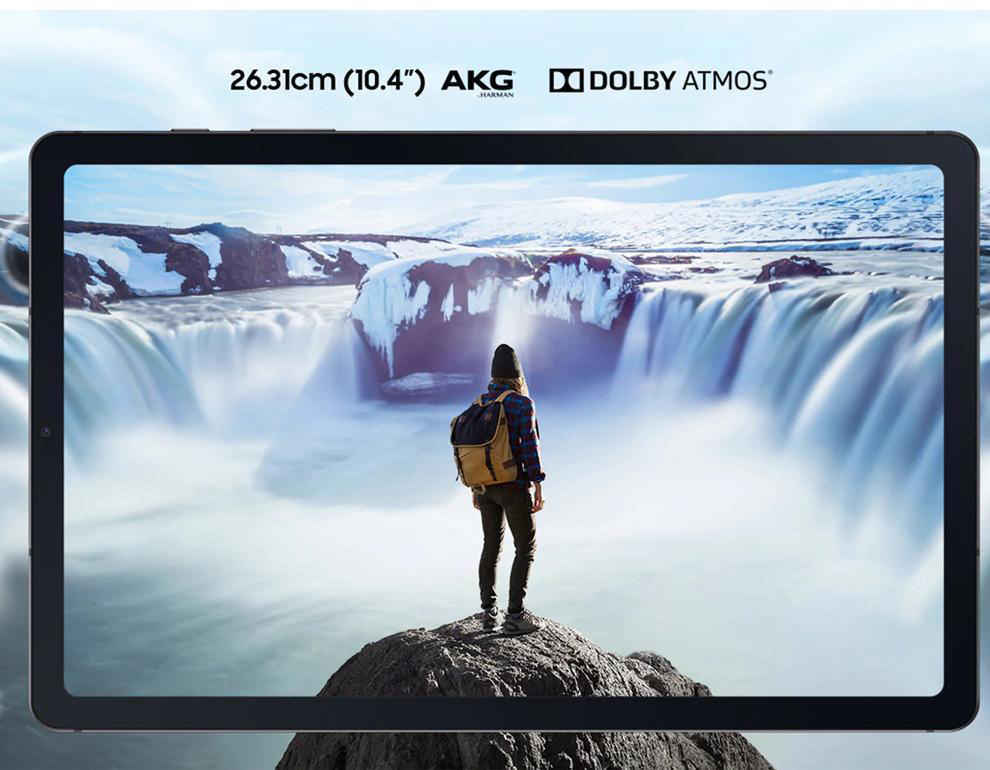 And when you are on the move, you will surely appreciate the 7040mAh battery that promises up to 12 hours of internet usage time and up to 13 hours of video playback. You can also add up to 1TB of expandable microSD storage that can be used to safely store all your creative work.
The dual speakers on the tablet support Dolby Atmos audio tuned by AKG, thus making your entertainment experience all the more enjoyable.
The tablet is powered by a capable octa-core processor paired with 4GB RAM and 64GB of internal storage. Samsung Dex can help fire a full desktop experience to enhance productivity. The Galaxy Tab S6 Lite can also sync messages and calls with your Samsung phone, just so you don't miss out on any important communication.
Awesome companion for creators
The Galaxy Tab S6 Lite is an amazing tablet for learning, creativity, and entertainment. The bundled S Pen is surely a valuable asset, but there is also powerful hardware and intuitive software backing up the entire experience.
Galaxy Tab S6 Lite is available in three beautiful colours – Oxford Gray, Angora Blue, and Chiffon Pink. The Galaxy Tab S6 Lite is available for ₹27,999 for the LTE version and ₹23,999 for the Wi-Fi version inclusive of ₹3000 cashback and a special discount of ₹1000.
[Brand Story]